UNWIND BODY SUGAR SCRUB (coconut)
Regular price

$19.00 USD

Sale price

$19.00 USD

Unit price

per
Unwind, the ultimate all-natural body sugar scrub in the heavenly Coconut scent. Experience pure bliss as you indulge in this luxurious scrub, crafted with organic sugar, nourishing coconut oil, and sweet almond oil. Prepare to unwind and treat your skin to a pampering experience like no other.
Unwind is carefully formulated with the finest natural ingredients to gently exfoliate and rejuvenate your skin. Organic sugar crystals work their magic, effectively removing dead skin cells and impurities, leaving your skin irresistibly smooth and glowing with radiance.
Immerse yourself in the tropical paradise of the Coconut scent, evoking a sense of relaxation and tranquility. Let the sweet aroma transport you to a serene oasis as you escape the stresses of everyday life and embrace a moment of pure self-care.
Enriched with the nourishing properties of coconut oil and sweet almond oil, Unwind deeply moisturizes and hydrates your skin, leaving it soft, supple, and beautifully nourished. Embrace the natural goodness of these organic oils as they work together to replenish and restore your skin's natural moisture barrier.
Don't wait any longer - it's time to unwind and give your skin the love it deserves. Experience the transformative effects of Unwind in the Coconut scent and indulge in the blissful escape it offers. Your skin deserves the very best, and we can't wait for you to experience the magic firsthand.
Ingredients: Organic sugar, coconut oil, sweet almond oil, grape seed oil
Disclaimer, this product do not contain any preservatives. Perform a patch skin test before using for any unknown allergies. 
Share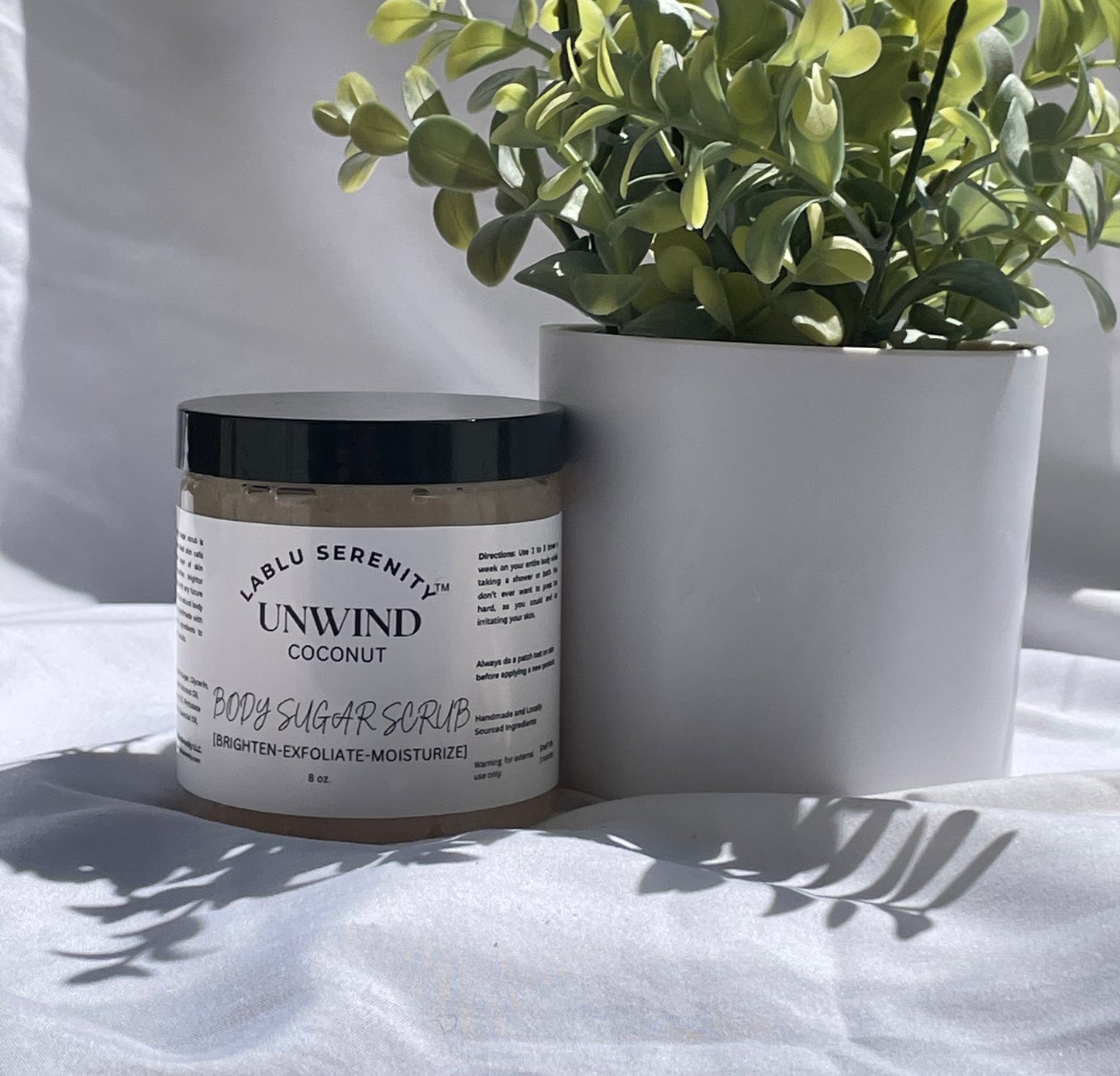 A hidden gem!
Girlit what is in this stuff my skin fees i used everything (soap, to sugar scrub in shower to body butter and my skin feels all satin silky smooth & smells soo good
hidden gem